The MacPhee Centre Artist-in-Residence Program gives artist a space to thrive and collaborate. The loft space at 50 Queen is home to one resident artists, from the year-long NSCAD Community Studio Residency.
The NSCAD Community Studio Residency program offers current students and recent NSCAD University graduates the opportunity to develop their practice through donated studio space in a residency site within Nova Scotia. As part of the program, our residents work with community members and students to increase interest in the visual arts. At the MacPhee Centre, we are thrilled to host. For more information about NSCAD residencies, click here.
The MacPhee Centre Community Resident Artist is open to all art forms. The MacPhee Centre Resident Artist can be anyone who identifies as an artist and could use a studio space.
All resident artists are an integral part of the MacPhee Centre community. Artists teach workshops and programs  to our MacPhee youth, and put on community exhibits to showcase their artwork.
Applications for this program are now OPEN. Please click on this link to apply.
The deadline to apply is JUNE 15, 2023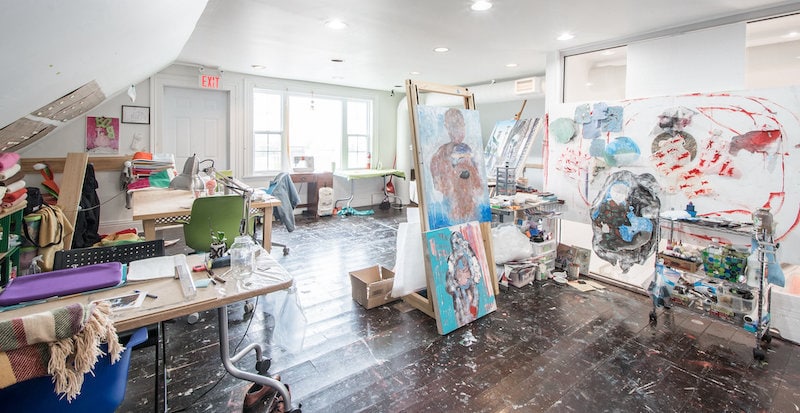 Current Artists-in-Residence
Megan Fitzgerald (she/her) - 2022-2023
NSCAD Artist-in-Residence
Megan Fitzgerald (she/her) is an artist working within the realms of expanded painting to extend boundaries of the landscape genre. Her place-responsive practice addresses themes of wonder, transformation and magic; responding to notions of the unseen landscape. Taking walking as subject and tool she collects objects, grinds earth pigment, and documents findings through on-site drawing. Mythical and strange assemblages are presented as real systems that might re-enchant our daily experience. After receiving her BFA from OCAD University in 2016, Megan travelled extensively by foot; partaking in art history and curatorial studies in Florence, residencies in Spain, long distance trails in the United Kingdom, and NGO projects in Vietnam. Megan received an MFA from NSCAD University in 2022. She currently works as a Research Assistant at the NSCAD Drawing Lab and teaches undergraduate and extended studies courses in painting and drawing. She likes the big things, and the little things, finding comfort in the closeness between the two.
Jean Mary Serutoke (she/her) - 2022-2023
NSCAD Artist-in-Residence
Jean Mary Serutoke (she/her) is an interdisciplinary artist, currently based in Halifax and a recent undergraduate of NSCAD University with a major in Interdisciplinary Arts. Her practice consists of introspection and reflection around the intersections of her own personal identities, whether it's with traditional printmaking methodologies or DIY ways of making while finding ways to bring other mediums into the process, such as textile work. Being part of the African Diaspora and living in various countries in three different continents, she has observed first-hand how it feels to live through different contexts and uses art-making as a form of therapy to share with others. She believes that care and vulnerability are essential to this work and through exploring race, disability, memory, self-doubt and gender, she is figuring out what she has to say through her work. With no grand illusions in mind that art will create a revolution in the traditional sense, she hopes that just one new idea can change a person's perception and ensue powerful changes in an individual's life.
Past Artists-in-Residence
The NSCAD Community Studio Artist in Residence:
Jenny Yujia Shi (she/her)
Natasha Verbeke (she/her)
NSCAD Artist-in-Residence
Nick Nylen (he/him)
NSCAD Artist-in-Residence
Maddy Filipps (She/Her)
Print making Facilitator
Kayza DeGraff-Ford (they/them)
Silk Painting Facilitator